Specialist in

Airport

transportation
Businessmen and vacationers have made us their first choice for their cab / limo services because of our professionalism and reliability. We strictly keep our appointments, communicate clearly and work discreetly. You can therefore count on us to be on time at the agreed location!
For over 20 years, Airport Limo Service has provided reliable and safe transportation solutions for travelers arriving and departing from Amsterdam Schiphol Airport to any other destination in the BeNelux.
All our vehicles are modern, clean and fresh so you can optimally enjoy your trip. Many amenities are also provided (such as water bottles, snacks and free WiFi). Your English-speaking driver will be happy to give you travel advice and recommendations (for further trips).
Curious what we can do for you? Book online or contact us for an offer without engagement!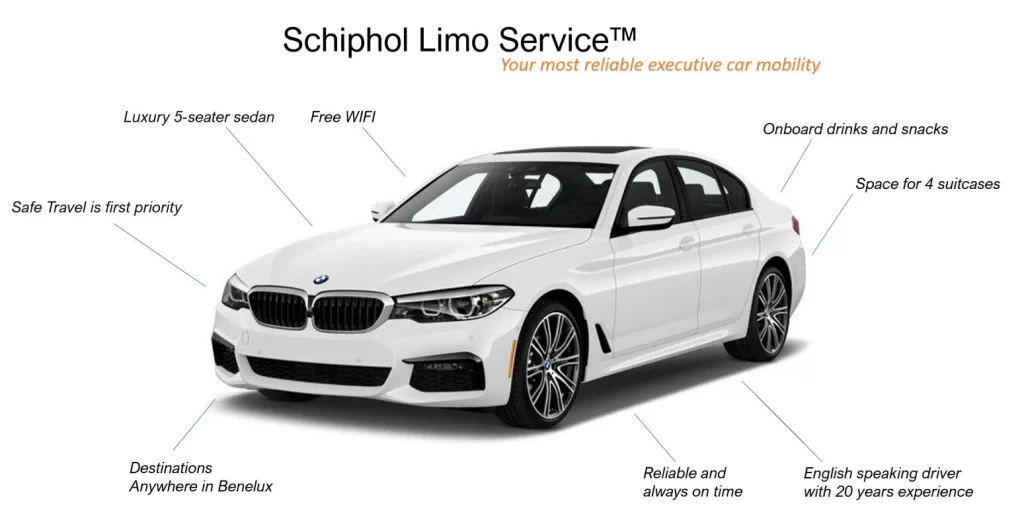 24/7
Airport transportation
Active for more than 20 years
Taxi Service 24 hours a day, 7 days a week
We drive to more than 5 European countries
Customers rate us with 5 stars (Google Reviews)
Make your reservation directly through our website
Pay direct & secure online
Your cab driver is waiting for you
Airport transfer
Flat rates to airports and out-of-town destinations
Support
We are happy to help you with all your travel related questions
Payments
We accept both credit and debit cards
Amsterdam
We have become known as a cab service that everyone in the area can rely on
Free WiFi
We know how important it is to stay connected, so we decided to equip all of our vehicles with WiFi units
Stay in touch with us and never miss a deal again